Robert Wells Home Page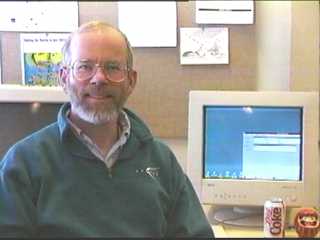 Things I'm interested in:
Brief status update, again - We moved to Silicon Valley and I joined the startup Camitro Corporation. We sold it to ArQule, Inc. in early 2001 and I stuck with it. The California office was closed down in a restructuring in December 2002, and I've been working to secure financing to spin out the ex-Camitro assets for six months, in a terrible investment climate. We've found a lead investor and a Japanese investment group wanting to invest, but need to find a 2nd US investor. Its getting to feel like a long time to wait... -rwells, 2003.06.15.
[Interested in...] Updating this list, eventually. I wrote it all in a stream of consciousness session one night in 1997, and my interests have changed in various ways since then... but I haven't had time to get back to reworking it yet... -rwells, 1999.04.28.
Computer Software Development

C++ Data presentation and analysis applications
Object Oriented Design
Component software architecture, particularly OLE and Java
PERL scripts
Web site development
Internationalization, particularly Japanization of software
My resume of development projects

Reading

Mysteries, particularly by Dick Francis, Rex Stout, and Ellis Peters.
Science Fiction, particularly by David Brin, Larry Niven, Jerry Pournelle, Alexis Gilliland, Robert Heinlein, William Gibson, and Neal Stephenson.

Music and Reading Aloud

Singing baritone in the Nativity of the Theotokos church choir in Chelsea, MA.
Tonsured reader in Orthodox Church of America, reading epistles, psalms, old testament readings, etc. during services.
Reading aloud to Tommy before bed: the Narnia books by C.S. Lewis, the Indian in the Cupboard books by Lynn Reid Banks, Tolkien, Mark Twain, etc.
Listening to Celtic folk-rock bands, such as Steeleye Span, Battlefield Band, or Fairport Convention.

Space Tourism, Space Development, Space Colonization
Recreation

Low impact aerobic step and fitness classes
Ping-Pong (aka Table tennis) - Chris and I play on the table upstairs most nights, lots of fun
Swimming at the Waltham YMCA
Fair weather bicycling
Warm water scuba diving: the Great Barrier Reef off Cairns in Australia, and South Water Caye in Belize, so far.

Travel

Camping trips, sometimes in rented RV's, sometimes with tents; we have done three camping trips in France.
Road trips, driving across parts of the US or Europe.
Scuba diving and beach bumming trips, to Belize and Florida
Trips to Beaumont, Texas to visit my father and Aunt 'Vetta, trips to Charlottesville, Virginia to visit my brother's family, trips to Los Angeles, CA to visit my sister's family, and my uncle Buddy's family. Maybe we'll make it to Milwaukee sometime soon to visit my cousin Janet and her family!
Business trips to San Francisco, many US cities, London, Tokyo, and Sydney.

Learning Japanese Language

Ann and I have been taking evening Japanese language classes at the Showa Women's Institute Boston campus since September 1994. It is very hard, and we sometimes backslide and don't study like we should, but we keep at it and are gradually getting better. I think we are still in the first grade, equivalent.
Japanese information processing - after considerable experimenting I've figured out a nice way to put Kanji text such as into Web pages so that everyone who looks at the page graphically will see the Japanese characters properly. I explain how you too can do this in my guide to displaying Japanese text in Web pages worldwide.

Video editing

I'm pretty heavily invested in Hi8 video equipment, with a Sony TR101 camcorder, and a Sony EVS7000 Hi8 editing VCR with RC timecode. I use the VideoToolkit software (originally by Abbate Software, since bought by Videonics) on our Mac 660AV to build edit lists, which I assemble to a Sony SLV920HF VHS editing VCR.
I use a Snappy gadget on my PC parallel port to capture the JPEG stills you see in our web pages.
I have shot dozens of hours of family history interviews with older members of my extended family, and eventually I really will get around to finishing more of the the edit lists, making the copies, and sending them out to all the cousins, uncles, aunts, etc. I'll building up considerable guilt over procrastinating so much on these... it would help if I wasn't such a perfectionist.